Pauley Pavilion Seating Chart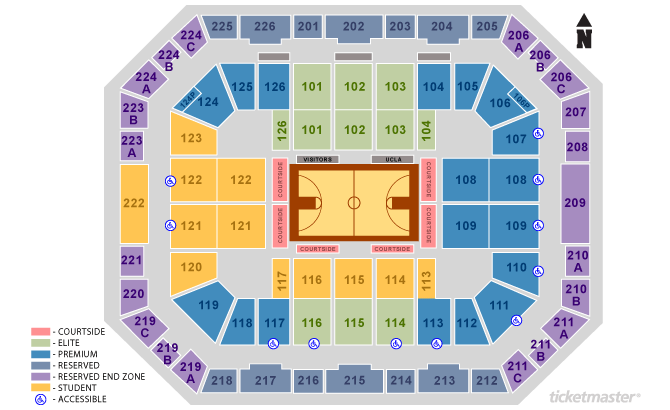 NOTE: Depending on the type of event, the seating configuration may be subject to change. Always check the individual event seating map displayed when selecting your tickets.
Student Section
Since 2003, the student section of 1,750 seats occupies the north side bleachers, sections 120-123 and 222, as shown on the above seating chart. They are also located right behind the South courtside, at the front of sections 113-117.
Courtside Seating
Sections 8, 9, 14, and 16 are where the courtside seats are located. It offers some of the closest and most impressive views at Pauley Pavilion.
Best seats
One of the best seatings in the arena can be found in sections 115 and 102. Regardless if you are seating in any row of this section, you will have a spectacular view. Although, we do recommend you to sit closer to the students' row for the best time if you are keen to be part of a loud crowd.
For any other seating options, kindly visit the official website of Pauley Pavilion as other events may have varying seat sections.
Secure your tickets today by selecting your desired seats. Visit the Pauley Pavilion schedule to view all upcoming events.
To view our ticket & refund policy please visit the ticket information page.